Fishing for perch can be real fun, especially when you land  a large catch. It is no wonder people of all ages enjoy fishing this fun fish as there are innumerable ways to catch perch in varied places. Though perch fishing is not a complex procedure, it is imperative to know a few basic things before you go.
The most common large perch is known as the Yellow Perch and the world record for the largest caught is 18 inches, weighing in at 4 pounds and 3 ounces. Yellow Perch is also known as Jumbo Perch or Jack Perch and are the most common perch caught in North America.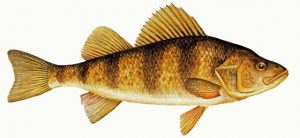 Apart from it being fun to go perch fishing it is also a delicious fish to eat. And honestly one of the easiest fish for the novice fishermen, as well as one of the best fish to teach the sport with.
You can catch perch from the shore or boat. Ensure that you have a reliable rod which can handle fish weighing up to 5 lbs so that you don't end up losing your prize catch due to the equipment not being up to par.A simple but reliable lake pole should be more than enough to handle perch fishing.
Lake Perch are usually caught around dusk or dawn when they are out feeding. Perch like many lake fish are most active during these times, however they can be caught throughout the day.
When fishing for lake perch you should use a monofilament line no lighter than 6lbs test. Unlike trout fishing, perch are less likely to notice a heavier fishing line, prompting many fishermen to utilize a line as strong as 10lb test.
Lake perch are often attracted to quick moving bright lures, such as spinners and spoons, although I have also caught several large perch on small swim baits (usually when i was targeting bass near deep water reeds).
If you are targeting perch with the intention of catching a large one, then it is advised that you try and fish around some of the deeper water structures. Perch are likely to be hanging out in and around structures. Large perch are frequently caught with either a spoon or swim bait, and for their size can put up a pretty good fight and can be great eating.
Be sure to check out more Perch fishing tips to learn more.