Fishing for Trout with Spoons
A spoon is possibly the most popular lure when fishing for trout. Spoons are possibly the most effective lures available as well as the simplest to fish with.
Spoon type lures can target a large number of species of fish, in a large number of circumstances. We will be covering the most effective methods and styles that can be used when fishing with spoon type lures and targeting trout specifically.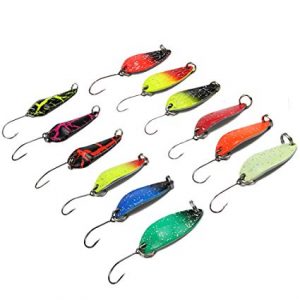 There are 3 types of spoon lures available, they include jigging spoons, trolling spoons and casting spoons. All four types of spoons can be used when fishing for trout. While many lures require specific conditions, such as weather type, water temperature, or aquatic growth…
A spoon can be used just about any where and at just about any time, and provide consistent results. Based on the type of spoon, you choose you can vary the depth of area fished, but the best aspect of fishing with trout spoons is the consistent bites and ease of use. This is a perfect lure for someone who is new to lake fishing, as well as for a seasoned veteran fishermen.
| | | |
| --- | --- | --- |
| | | |
| Jigging Spoons – This type of spoon is best used when the trout are in highly concentrated areas, ideally directly below your boat or dock. In my experience jigging spoons has been the most effective when using a fish finder and knowing the exact depth of the fish. | Casting Spoons – These are the more classic versions of the spoon lures, and although there have been some recent changes and new designs this style is very much like the original designed in the 1840's. Ease of use and incredible effectiveness makes this a constant favorite. | Trolling Spoons – Trolling spoons are heavier than other casting spoons and should be set up with a proper trolling rig. Trolling spoons for trout is one of the most effective ways in catching large trophy fish, mostly due to the fact that you are able to fish larger area. |
Spoon type lures are very simple to use, making the entire technique and method explained in just a few words… cast and retrieve. All that is required is that you cast the spoon and retrieve it at a rate that keeps the lure off from the bottom of the lake or river.  I have personally had success with spoon lures when targeting trout both near the surface of the water and deep, as well as success in near open water as well as right along reeds and other aquatic plant life. Some of the most successful spoon lures I have come across for trout include the following.
.
| | | |
| --- | --- | --- |
| | | |
| KastMaster – The traditional KastMaster has always had some amazing results, but over the last few years they have not only begun to add several colors and prints to their spoon type lures, you can now find KastMaster lures with various types of tails from critter style, worms and even feathers. By far the most consistent style of spoon lure I know of. | Acme's Little Cleo – The Acme's Little Cleo is another incredibly simple spoon to use that also gets consistent results. With the various colors and the combo packs one of the great things about the Acme's Little Cleo is that if you purchase 1 combo pack you are almost certain to have a spoon that the trout will be interested. | Dardevle – This is another great spoon for fishing trout, in addition to being simple and effective the Dardevle is ideal for fishing around reeds, a common grazing area for trout. Dardevle lures offer "Weedless" versions, these lures are far less likely to get caught up on aquatic growth that normally catches spoon lures. |
It is important to remember, as is when ever fishing for trout, you will have much better luck if you consistently switch out colors and size of bait being presented. A lot can also be said for taking a couple of moments and rubbing your hands together with either grass or a small amount of we dirt between them, this can eliminate a lot of the human scent that can deter some of the more intelligent and seasoned trout.