Trout Fishing Tips for Fall
When fall is approaching faster than a trailer of a tractor that has no brakes while coming downhill from a mountain, it is the time to go trout fishing. For many, fall is the favorite time to go angling and some big trout can be caught this time without much difficulty. There are many tricks to this trade but for now, there are four main tips that could be followed by even the novice fishing enthusiast.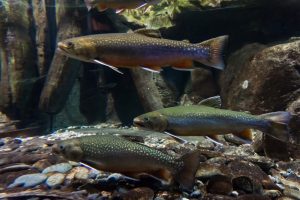 Be Aware Of Your Hands – Overlooking the hands could cause an entire day spent without a catch. The matter is not the hand themselves, but the smell that may be in the hands. Trout have an extreme sense of smell. If they smell something not "fishy" they are not going to bite the bait.
Hence, an unnatural odor that may be in the hands must be removed prior to preparing the bait for fishing. As the hands transfer its odors to the bait and that may cost the trout bite from not happening, while one would wonder; why there wasn't any catch today? Making a habit of rubbing the hands with a handful of dirt or a lump of grass every now and then, helps a lot. This eliminates all kinds of odors from the hands, which are unnatural.
Lighter The Gear, Better The Opportunities – It is always best to make use of the lightest fishing gear that one can easily get away with, especially when one is going for trout fishing. Hence, going to the water with an ultra-light fishing rod, reels and a light test line will make the movement of a fisherman more swift and instant. The bottom line here is that the more light a fishing gear is, the more chances of bites happening in every attempt.
Gang Hooks Are Ideal – Gang hooks are best for all the season because they are very easy to rig with live worms as bait. The pre-tied gang hooks allow the live bait to be naturally rigged around it, the way live worms move around in the nature. This increases the chances of a trout biting onto the bait very soon, increasing the opportunity and the volume of the catch. These gang hooks come pre-tied, ready for fishing or one could tie his own set as well; but gang hooks has to be there in the trout fishing kit.
Always Listen To Nature – Paying attention to what the nature is conveying is very important when someone is going trout fishing or fishing in general. If you hear a large number of bugs in the air, it might be an ideal time to utilize a fly or top water lure.
Following these four simple tricks even a novice can fish trout really well in the fall.