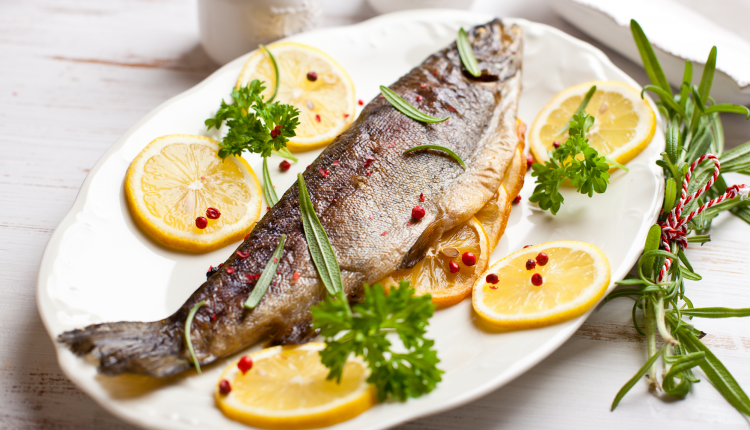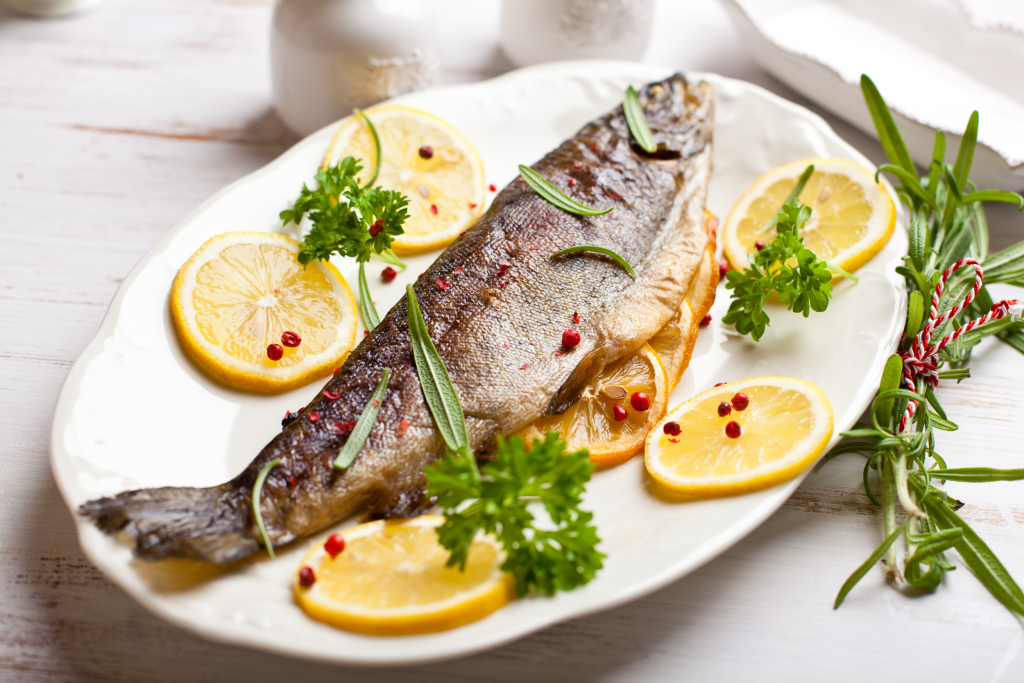 Trout of any kind has been a family favorite in my household for a very long time. One of the easiest, fastest, and most delicious ways to prepare it is simply to bake it whole!
It takes very little time to set it up, and it always comes out beautiful and delicious. You do not even need to remove the head, fins, or skin from the fish before baking it. It is flavored with dill weed and lemon, and the bones can be easily removed after it is done cooking. It's the healthiest way of preparing your fish too!
Prep Time: 20 minutes
Cook Time: 30 minutes
Total Time: 50 minutes
Yield: 4 servings
Ingredients:
    2 whole rainbow trout fish, about 1 pound each (See Notes)
    2 lemons, divided use
    Kosher salt
    Lemon pepper
    Garlic powder
    Onion powder
    1 ounce fresh dill weed sprigs
    Butter-flavored vegetable oil spray
    Sweet Hungarian paprika
    1/2 cup white wine
Preparation:
Preheat oven to 475 F. Line a shallow baking pan with foil. Insert a flat baking rack into the pan.
Rinse the fish under cold water and pat dry. Slice one of the lemons into rounds as thin as you can with a sharp knife.
Lightly sprinkle the cavities of the fish with salt, lemon pepper, garlic powder, and onion powder. Stuff 2 to 3 sprigs of the dill weed into the cavities of the trout and follow with half of the lemon slices.
Spray the entire skin of the fish with the butter vegetable oil. Place on rack in the prepared pan. Spread dill sprigs over the skin and top with remaining lemon slices. Sprinkle lightly with paprika. Pour wine down the side of the pan to coat the bottom under the rack. Bake for 25 to 30 minutes.
Present the whole fish on a platter for your guests to admire before dividing to serve. The flesh and skin should easily separate from the carcass. To serve, sprinkle the fish filets lightly with paprika. Garnish with remaining lemon, cut into wedges, and a dill sprig.
Yield: 4 servings
Notes: Other varieties of fish are easily substituted. Adjust the baking time up or down according to the thickness of the fish.
Recipe from About.com